Basketball is one of the most popular sports in the world and one of the most widely viewed. It is a team sport that involves two teams of five active players each trying to score points against one another by throwing a ball through a 300 cm (10 feet) high hoop (the 'basket') under organised rules. It is played on both indoor and outdoor courts.

The size of the court, height of the basket, size of the basketball, and length of time that the game is played, can all vary according to the age, size and skill level of players.
Basketball is a fast moving game that involves a lot of variety, including shooting, dribbling, passing, rebounding, defence and much more.
Health benefits of basketball
Basketball involves a lot of starting and stopping. While not renowned as an aerobic sport, it is still a great workout that can help you:
burn calories (an hour of basketball can burn 630–750 calories)
build endurance
improve balance and coordination
develop concentration and self-discipline
build up muscle.
Contary popular is simply dummy text of the printun known printer took a galley of type anambt.
Other benefits of basketball
As well as being a great way to stay fit, basketball can also:
help you to make new friends and see them regularly teach you about being a good team player
be played by people of all ages and all abilities
be played all year round because it's usually an indoor sport
be a fun game that kids of all levels and ages can enjoy
be practiced alone – all you need is a ball and a hoop (and you can find a hoop in most local parks and school grounds)
be played and enjoyed with as few as two people (although official games require 10 players).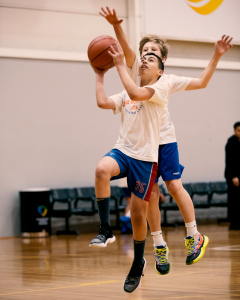 Getting started with basketball
Although official games of basketball require 10 players, you can play a game of basketball with just one other person. You can also go out and shoot baskets by yourself. If you want to play basketball competitively, you can become a member of a team and get involved in local competition. Check out your local sports centres and associations for information on how to join a team, or start your own.
Basketball equipment
One of the great things about the game is that apart from having a basketball, you require very little other equipment to play. However, as basketball involves a lot of running and jumping, it can also be wise to have:
basketball or sports shoes that provide good ankle support
mouth guards
protective knee and elbow pads.
Basketball and children
Basketball is a great way for kids to get active and have fun.  Chase Basketball is located in Victoria and runs a variety of programs for all children of all ages and skill levels.  Chase basketball is a great place to get started with your love of basketball and health!
https://www.betterhealth.vic.gov.au/health/healthyliving/basketball-health-benefits